A Film Guy named Jean Jean
In the past, the Panama Film Festival has attracted director greats such as Karim Aïnouz (Brazil) and Pablo Trapero (Argentina), and actors Ricardo Darín (Argentina) and Édgar Ramírez (Venezuela). This year it was a tall, charismatic Dominican of Haitian origin with an enigmatic name that ruled Panama's red carpet and was the talk of the town. Jean Jean (he has his mother's surname) stars in José María Cabral's 'Carpinteros' (Woodpeckers), an accomplished and absorbing film that combines gritty prison drama with bitter-sweet romance. But his own film 'Si Dios quiere Yuli' (God willing, Yuli) also featured at the festival, about the Dominican Republic's decision to strip over 200,000 Haitians of their citizenship - a situation that would make EU migrants in the UK shudder with apprehension. Intrigued by this new Dominican-Haitian, actor-director, Latinolife sought him out.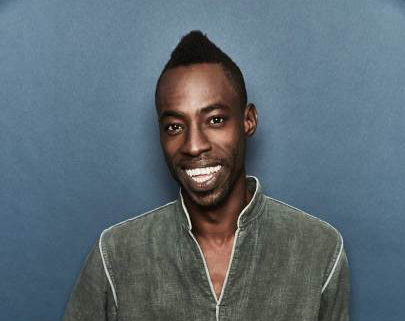 Carpinteros is the first film from the Caribbean to close the Panama festival. It was also the first Dominican film to be selected for competition at Sundance, earlier this year. Shot in a real prison, and acted almost exclusively by inmates (all but the three leads), the title comes from the real-life practice in which the occupants of adjoining male and female prisons in Santa Domingo use sign language – known as woodpecking – to flirt with each other between the bars and over the fences. Hence the romance between Julián (Jean) and Yanelly (Judith Rodriquez Perez), which starts sweetly but gets caught up in a frighteningly real and visceral prison riot.
Whilst gracing the red carpet as the star of Carpinteros, Jean Jean also brought his own documentary to Panama. A highly personal film, Si Dios quiere Yuli (God willing, Yuli) charts the chaos caused when in 2013 the Dominican government decided to strip more than 200,000 Haitian immigrants and their descendents of their Dominican citizenship. The controversial move was accompanied by a Kafkaesque bureaucratic nightmare, as threatened residents were invited to reclaim citizenship. Jean himself and his mother Yuli were among them, and Jean acts as the on-camera guide to a situation that would make EU migrants in the UK shudder with apprehension.
Jean Jean began working in cinema in 2002, while studying at the National School of Dramatic Arts, and is the first Dominican-Haitian actor to become prominent in the incipient Dominican film industry. Last year he won the Amnesty International Human Rights Award for his documentary, at the Trinidad and Tobago Film Festival. And this year his performance in Carpinteros won him the best Ibero-American Actor award at the Guadalajara Film Festival.
I met Jean Jean in the swanky American Trade Hotel in Panama's historical Casco Viejo, which served as IFF Panama's festival headquarters.
Latin Life: What was the experience like of working with prison inmates?
Jean Jean: It was exciting and intimidating at the same time, as it always is when you're filming in extreme situations. And inside a jail everything is heightened. Being there every day, in a sort of mimesis with the prisoners, was very revealing, and at the same time it marked us. One of the most difficult things was managing our emotions during and outside of work. It could be difficult to get rid of the character, to take off the suit. Sometimes it was like the delinquent was going home and lying in bed next to your partner!
But the secret of the success of Carpinteros is to have managed to draw a ray of light from the depths of that darkness. Even though the inmates are deprived of their freedom, by some bad decision they made in their lives, that did not stop us from seeing them as the human beings they are, and that their status as prisoners is nothing more than a reflection of the society that has condemned them – which failed to offer them an adequate education, and does not have the best example of government.
LL: How do you regard yourself, Haitian, Dominican or both?
JJ: As my documentary shows, I was born in Haiti and my mother brought me to the Dominican Republic as a child. I grew up there, I went to school there, I trained and work there. So I recognize myself as a Dominican of Haitian origin.
But in any developed country, when you spend more than 20 years giving your life for that nation and paying your taxes, there are official mechanisms that respect your rights, which we don't have.
The National Regularization Plan for Foreigners is nothing more than a macabre plan of exploitation and domination, a way to produce apartheid and statelessness – that is, more mechanisms that make it easy for a modern system of servitude.
About 288,000 undocumented people registered under the plan, of which 98% were of Haitian descent. According to the official data more than 200,000 people completed the process. And all the government has done is give those people the status of 'non residents'. I still find myself with that rare status of 'non-resident'.
LL: The documentary is listed in Panama as a Dominican-Haitian co-production. Isn't that a bit ironic?
JJ: I am the one who identified it as a Dominican-Haitian film, because it tells of a story that concerns both countries. But the real irony is when the Dominican state celebrates the success of a film like Carpinteros – which portrays the vicissitudes of a Dominican-Haitian inmate – while still denying so many people like him their citizenship.
LL: It sounds as if your filmmakers are tackling these problems head on.
JJ: It's an historic moment in our society. Four Dominican films being released this year – Azul Magia, El Hombre que Cuida, Reinbou and Carpinteros – have a common denominator: all seek to dismantle our false identity as a people, based on values ​​that lie in racism, xenophobia and inequality. These films and others are paving the way for change – a new wave of Antillean cinema moving towards the construction of a true, dignified regional identity. Cinema really can change the world.
LL: Do you believe that filmmakers from Central America and the Caribbean have things in common?
JJ: It's unity that makes us powerful. Given the geopolitical importance the country occupies, IFF Panama offers filmmakers in the region a valuable viewpoint, to see that what we have in common is immense. But it's also necessary to have more alternative means of distributing films, which allow the jewels that one sees in festivals to also arrive at the cinemas of our region.
Cuba's natural setting, with its own historical and cultural...
From garage parties in Panamå to the awards ceremonies of Miami, how...