Five Reasons to Love... Mexican Comedy
Ask a British person what they know about Mexico and they might mention tacos and Cancún: for those unacquainted with the country, its image is inextricably linked to bean-laden delicacies and 'Spring Break' debauchery. However the Mexican sense of humour, frequently the star of its prolific national cinema industry, is loved throughout Latin America, not least for delivering one of the continent's most famous long-running comedy series El Chavo del Ocho. This guide serves as an introduction to both Mexico's sense of humour and its excellent cinema.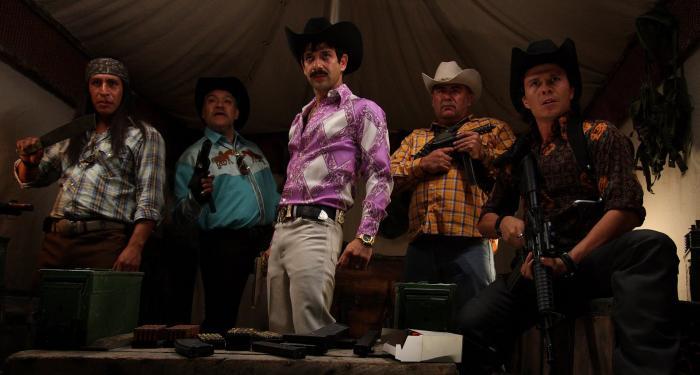 Drug-related violence, economic inequality and political corruption are as consistently present in film as they are in daily life. At least in the cinema theatres, the agents of these three lamentable truths can be freely ridiculed and criticised. Making light of the country's difficult reality is not only a leitmotif of the following films but an important part of the national psyche.
La Ley de Herodes (1999) follows a kind-hearted, dimwitted janitor who is appointed as the mayor of a small town in the mistaken belief he will not cause any harm. His ever more delirious foray into politics ends in his encompassing those two traits (seemingly common in Mexican politics): violence and corruption. The film takes a universally applicable fable – that power and money can corrupt even the most innocent of souls – and turns it into an exaggerated, sarcastic and very unsubtle political commentary.
Matando Cabos (2004) is an unhinged, fast-paced tale of a kidnapping in Mexico City, a kidnapping so unsuccessful that it snowballs into a hilarious maelstrom of unpredictable subplots and improbable conclusions. It combines not only slapstick and dark humour but also the Shakespearean ploys of mistaken identities and dramatic irony. Added to this heady mix is the highest-budget action scene of Mexican cinema to date: a car crash in one of the world's largest football stadiums, located in the country's capital.
Salvando al Soldado Pérez (2011) is a spoof of Speilberg's Saving Private Ryan in which Julián Perez, the head of a drug cartel, and his motley crew must go to Irak and bring home his younger brother who is missing in action if he wants to be pardoned by his imperious mother (family always comes first in Mexico). Less attention should be paid to its scant political agenda, which is the criticism of the Irak war suggested by trigger-happy gringo soldiers, as this plays second fiddle to the cracking one-liners, ridiculous action and outstanding cast.
La Casa de Mi Padre (2012) is a must-see for any fan of Will Ferrell as it brims with his trademark sense of humour, while honouring the Mexican Western genre in a glorious B-movie twist. Ferrell plays something of a simpleton who seems to be destined to watch his brother marry a woman whom he too desires. To clinch the deal, Ferrell miraculously speaks Spanish throughout (albeit with a gringo accent) and the unmistakeable acting duo Gabriel García Bernal and Diego Luna excel playing two rival drug lords.

From Carlos Menem to Shakira, Latin America has inherited the usual...