An inspired Cuban Production of Bizet's Carmen
Cuba's natural setting, with its own historical and cultural drama, and the plethora of high quality performing artists, singers and musicians make for a triumphant production of Bizet's Carmen.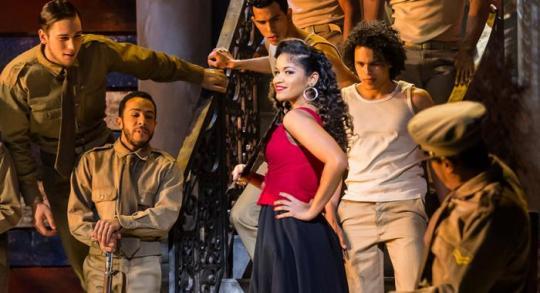 The story of Carmen is among the most enduring of all opera. It is nearly 150 years since Bizet's 'Carmen' was first staged and 70 since Oscar Hammerstein transposed it to the US' deep South and set it in the African-American community. Now British director, Christopher Renshaw, has teamed up with Cuban-American Alex Lacamoire to set it in Cuba and in the context of the 1958 Revolution. The story has lost none of its drama and intensity in its travels, and the exuberance of Cubans and exciting beat of its music provides the perfect setting for this adaptation of Bizet's opera.
The production team assembled by Renshaw has been able to count on the outstanding quality of Cuba's highly trained artists to assemble
an all-Cuban cast for this spectacle, blending artistic professionalism with inspired singing, dancing and acting. The result is a triumph.
One innovation, the introduction of a narrator in the person of 'La Señora' played by the celebrated Cuban singer Albita Rodriguez, adds drive to the story's dark conclusion and tragic end and allows the choreography to incorporate references to Santeria, the ritualistic religion that blends elements of African worship with Catholicism and which took root in the Caribbean.
Dominating the story is Luna Manzanares Nardo, perfectly cast as Carmen la Cubana, with her sensuous mixture of outright defiance of male dominance and authority and the quest for perfect all-embracing love, prepared to die rather than settle for anything less. Her male suiters, the soldier Jose and the boxer El Nino, can only offer less and so are discarded. Carmen has little to learn from today's feminists.
How faithful Carmen la Cubana is to Bizet's original is summed up in Bizet's words uttered in 1875, three months before he died, to describe the hostility of the audiences of those days: "all these bourgeois have not understood a wretched word of the work I have written for them". Carmen La Cubana is today's proof of how right he was.
Carmen La Cubana is on at Sadlers Wells until August 18th. You can buy tickets here
Cuba's natural setting, with its own historical and cultural...
From garage parties in Panamå to the awards ceremonies of Miami, how...