Latin Shorts @ BFI Flare Film Festival
Corina Poore revels in the wonderful short films at this year's LGBTQ Film Festival in London, including Ursinho, set in Rio de Janeiro, Brazil, and The mexican The Swan 2016 (El Cisne) set in Mexico, and directed by Daniel Chávez Ontiveros. Elena (2017) form the Dominican director Ayerim Villanueva.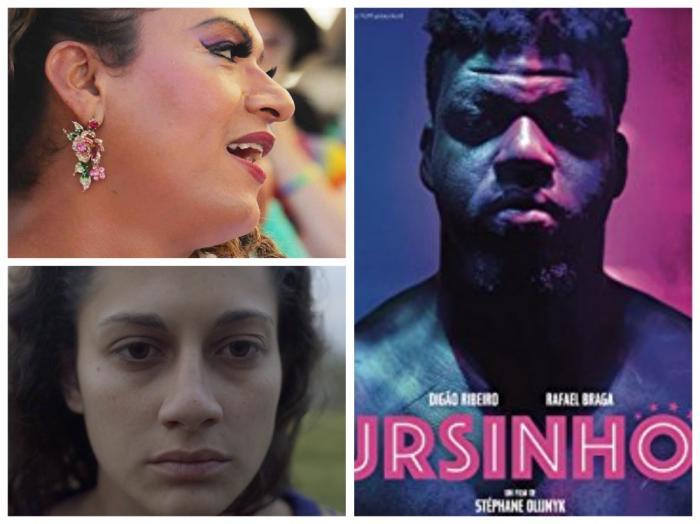 Short films have few outlets these days and as a result are badly undervalued. There was a time when all feature films had a short film played before it. This opened up opportunities for many up- and- coming film directors and was an essential outlet for a myriad of small and fascinating documentaries, for instance, an extraordinarily visual short on how the sweet 'Brighton Rock' is fabricated, that has always remained fixed in my memory.
These little gems are, sadly, now largely only available in film festivals or on television, which has been a great loss to all, including the viewers. Gradually, they are getting some exposure on the internet, eg. Vimeo, but this has not been nearly enough, so it has been a treat therefore to get the chance to view some powerful Latino and Brazilian shorts at this year's BFI Flare London LGBTQ+ Film Festival.
Among the Hispanic and Luxo -Brazilian offerings is the dark and brooding film Ursinho (Little Bear, 2018) 45 min, set in Rio de Janeiro, Brazil, by French director Stèphane Olijnyk, which stands out. Placed in the "Dangerous Atmospheres" section of shorts in the festival, the cast includes Rafael Braga, Wilson Rabelo and Digao Ribeiro. Best known for his documentaries, Olijnyk, in Ursinho, is immersed in this dense fictional story which won him the 'Best LGBT Medium Length Feature' at the New Renaissance Film Festival.
Ursinho (Little Bear) is a mixed-race, overweight and lonely lad from the favelas, who ekes out a living doing odd jobs while caring for his sick father in their shack up the favela hills overlooking the bay. It is a dreadful irony to see them surviving in the most basic of improvised homes while simultaneously having a view of the bay of Rio that is truly, stunningly beautiful. But it is a view they are no longer able to see or enjoy.
Unappreciated and unloved, the brooding introvert lands up working in a wealthy man's home, where he falls obsessively in love with the attractive and sensual high-class Copacabana rent boy who is lodging there, (and who, ironically also works as best he can, to support his own family). They come from worlds that are so far apart that when Ursinho, desperate to see him, turns up at the hairdressing salon where the lad has his day-job, he assumes Ursinho is out to blackmail him.
There is a boundary between them that is hard to cross, but Ursinho, a man of very few words, tries, somewhat clumsily, but it also changes his life. His dense dreams about his 'adonis', affect him and his exposure as gay changes the dynamics in his home life completely.
There is some excellent lighting and camerawork, with the viewer being drawn into the intense world of his obsessive dreams, which with a slow burn, affects all of his life.
In the "Trans-family Matters" section of shorts, El Cisne (The Swan, 2016) is a moving documentary, set in Mexico, and directed by Daniel Chávez Ontiveros. Only 22 min long, it is empowered with enormous warmth, and we follow trans activist and performer Sthefany (played by Sthefany Galante Bautista) as she returns home to try to rebuild bridges with her family after a long six years away. Having had to deal with fear and rejection from all the people around her, her gesture to return to her conservative family demonstrates stoicism and courage, but she is determined to restore the family that she feels that she lost. The camerawork is so nuanced and un-obtrusive that we get a profound sense of intimacy and we can understand what she has to go through, as if we were gazing into her soul, feeling the pain with her. This is an accomplished short that provokes a great deal of empathy.
Lastly, in the "Sometimes you get what you want" section, there is Elena (2017), a 23 min short by Ayerim Villanueva. Elena is a young 17-year old teenager who is ambiguous about her sexuality. Living with her oppressive grandmother, she has no way to express her feelings or thoughts on any level, with religious pressures always present. Despite her grandmother's refusal to allow her to come, her cousin Julia sneaks in for a visit, opening doors in Elena's thoughts and encouraging her to find herself. A co-production between Spain, Portugal Costa Rica and the Dominican Republic, this film was written and directed by Ayerim Villanueva and stars Maria Bonilla as the grandmother, Camila Campos as Julia and Mar Jiménez as Elena. It has a fresh a quality which promises more from this young director from the Dominican Republic. Having started out as an actress she is now taking her turn behind the camera.
Elena (2017) Written & directed by Ayerim Villanueva Cast: Maria Bonilla, Camila Campos, Mar Jiménez
Ursinho (2017) Written & directed by Stephane Olijnyk Cast: Rafael Braga, Wilson Rabelo and Digao Ribeiro
The Swan (2016) Written & directed by Daniel Chávez Ontiveros Cast: Sthefany Galante Bautista
Corina Poore talks to Gustavo Salmerón, who made a unique film about...
Eddy Vents has been surrounded by Lusophone music from the early...