Los Fabulosos Cadillacs in London
Argentine rock band Los Fabulosos Cadillacs (aka LFC) set the place on fire for almost two hours non-stop at the O2 Shepherds Bush Empire London on Friday.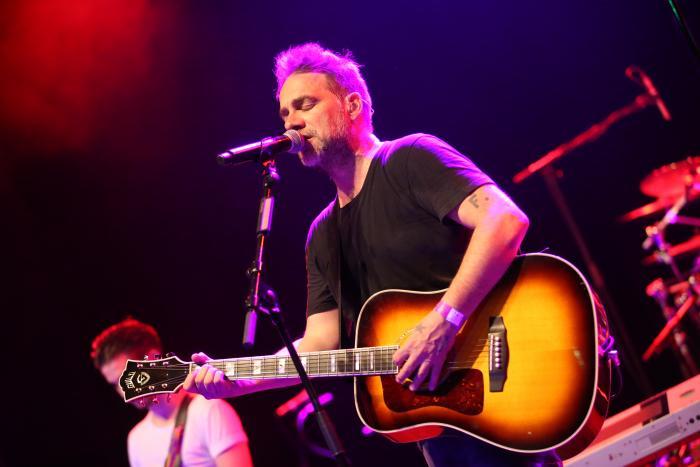 In conversation with Latino Life three months ago, LFC's saxophonist Sergio Rotman (or Rockman, as is often called) defined Buenos Aires as 'the greatest rock & roll city in the world'. 'I'm not inventing this', he added, 'there is no other place where a local artist, can gather 550,000 fans of which [only] 230,000 pay the ticket [speaking of Indio Solari, former leader of Redonditos de Ricota]. This is something incredibly serious. Even if I take distance from the detail of what the becoming of these shows is, I take the fact that the music of Indio, LFC, La Renga or other bands that gather masses, is not complacent music, it's not rock made to dance and have fun. In Buenos Aires rock is not only popular in terms of big bands, it's also popular in the under.'
While Rotman's statement might sound as an exaggeration to those who have not seen LFC and the other bands perform live in Argentina and Latin América, perhaps the only aspect to take issue with here is –while becoming picky– a different one: that LFC's music is surely 'also' made to dance and have fun. In fact, Vicentico (voice), Flavio (bass), Sergio and Co. delivered such an energetic performance in London with their rock 'Made in Buenos Aires' that after two hours dancing and jumping at the Shepherds Bush Empire every single soul was left as exhausted as astonished. This reporter spoke to 15+ Latin American people after the show who had never seen LFC live who declared 'I've never jumped as much in my live', 'it's the best show I have ever, ever been to', and the like…
Starting with the new 'Obertura del Faro', overture to their new opera rock La salvación de Solo y Juan (2016) as the band walked on stage, the overpowering 'Cadillacs' was the real kick-off followed by early classics 'Mi novia se cayó en un pozo ciego', 'El aguijón' and 'Demasiada presión'. 'Mi novia', as 'El genio del dub' + 'Radio Kriminal' (which followed) and other songs have been re-versioned in some way, mostly adding more distortion and reverb. The guitar is now in the hands of Vicentico's own son Florián, 22, while Flavio's eldest son Astor, 19, alternates between bass and drums. Even Astor's younger brother Jaco, plays guitar in some of the songs. Although one knows they've grown up among instruments and cables it is still surprising to see the ease the young Cadillacs show on stage.
The social critique and other themes of LFC lyrics blends well with their mixture of hard-core sound, jazz, ska, reggae, and Latin rhythms that the band has been gaining since its inception thanks to a spirit which keeps exploring new paths without losing its Cadillac essence.
New songs such as 'Averno, el fantasma', 'La tormenta' and 'Canción de Solo para Juan') were here intermingled with all-time classics, including the 'trilogy' 'El león', 'Matador', 'Mal bicho', and other Latin American-themed tunes such as 'Las venas abiertas de América Latina and 'V Centenario'. The 'slower' 'Calaveras y diablitos', 'Siguiendo la Luna' and 'Basta de llamarme así' eventually gave everyone around a respire in combination with the not-so-slow 'Carmela', 'Saco Azul' and 'Carnaval toda la vida', which come, as many other songs from the two of their most famous albums, El león and Rey azúcar.
Among their few but well-known British songs they've ever covered, there was space for only one: 'Revolution Rock'. Originally a ska (in LFC Spanish version) 'Revolution' has grown punkier and punkier with the years –brass section apart– to become, rather paradoxically, punkier than Clash's own version…
Then, there was time for no more apart from the long-ago become football chant 'Satánico Dr Cadillac', finishing the memorable night as high and hot as it had commenced.
photo: Roger Alarcon
Cuba's natural setting, with its own historical and cultural...