Marielle: She Inspired Us All
Marielle Franco gave voice to the hopes of favela dwellers, black people, women and the LGBT community. Can that hope survive?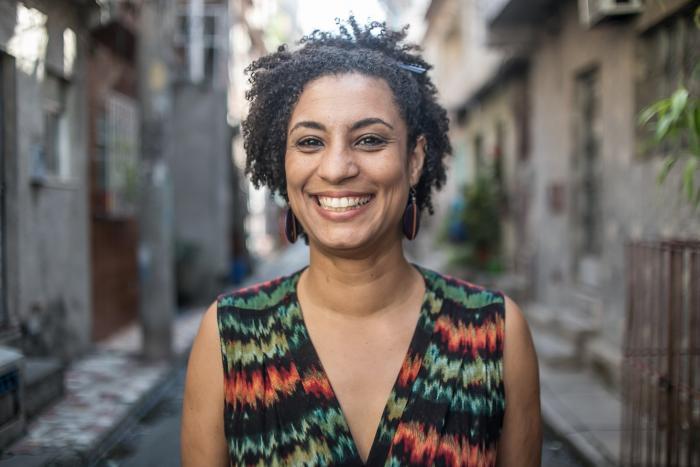 The murder on 14 March of Marielle Franco, a young black city councillor and human rights campaigner, has deeply traumatized Rio de Janeiro, a city so cheated by the failure of mega-events such as the World Cup and Olympics to deliver lasting social change, and so bitterly accustomed to violence.
So far, no arrests have been made and Franco's left-wing PSOL party and supporters are now fighting attempts by right-wing comm entators to smear her reputation with claims that she 'collaborated' with 'bandidos', and assertions that her murder proves the need for the military intervention of which she was so vocal a critic.Ammunition used in the crime has been tracked to a consignment bought by the federal police in 2006, according to news reports.
President Michel Temer tweeted that Franco's murder was 'an attack on democracy'. Jair Bolsonaro, the extreme right-wing presidential candidate who has openly espoused homophobia, has remained silent.
By now some facts about the murder are well-known. Franco, 38, was shot dead as she returned home from an event in central Rio on Wednesday night. Unknown assailants pulled up and fired nine shots through the tinted-glass window of her car, killing Franco and her driver, Anderson Gomes, 39. This manifestly targeted assassination came days after Franco, who grew up in the favela complex of Maré, had accused military police of killing two young men and terrorizing residents in the low-income community of Acari.
But Franco, who had recently been appointed to a city council commission charged with overseeing the military intervention ordered by Temer to restore order, had long spoken out against military police violence in the favelas, home to around a quarter of Rio's population. Her warning that the army occupation would lead to deaths and human rights abuses was based on her experience of activism over many years.
It is impossible to overstate the impact of her death on the communities for whom she was the lone voice at the table of Rio's political establishment. At a demonstration outside the council chamber in Rio last Thursday people openly wept and held each other in silence as though they could simply not take in the loss of 'Mari', or accept that the hope she represented had been so cruelly extinguished.
She represented every minority.
In defying her background to get elected as a PSOL councillor in 2016 – with the fifth largest majority of the 70 contested seats – the ground-breaking Franco was a pioneer for women, for marginalized communities and minorities across Rio.
'We are devastated. Marielle was a black, gay woman from the favela complex of Maré and represented every minority – and yet she got elected," said Karen Aquino, a 31-year-old psychiatrist attending a demonstration in the city centre. 'This is meant to show us that the marginalized are not meant to rise through the system. If you do, this is what will happen to you. You will be stopped. I too am a black lesbian, so what does this mean for me?'
The loss of Franco is a body blow to the black women's movement, and to the younger generation of activists who looked up to her. On the night she died, she had been attending an event called 'Black Women Moving Structures'. Gabriele Roza, a 21-year-old journalist, had been at the same event to present a project on encouraging more black women into politics. 'It should have been a happy time, the birth of a project to encourage black women to participate in politics. Instead, it was a death – an end', she said.
Marielle was not just any black woman politician. She was the black woman who transcended her backgroun d and broke through the barriers and inspired all of us.Theresa Williamson, director of favela advocacy NGO Catalytic Communities and a friend of Franco, said:
"This has to be a turning point. The situation is beyond unsustainable'. One of Marielle's final tweets asked: 'How many more need to die for this war to end? Rio de Janeiro has waged a war against its poor, black favela population since its founding. The military police have not been reformed in 200 years … nothing has changed in 200 years. The city's oldest favela marked its 120th anniversary last year – still with rudimentary services. Do you think it's an accident or mishap that in 120 years, 24% of the city's population has been shuffled between politics of neglect and repression?"
The murder of Marielle was a cowardly attack on democracy, on us, on Brazil … they killed her because she embodies what is intolerable for the cowardice that rules this country: her own emancipation, the resistance of the favelas, the emancipation of so many black women who see themselves in her -Renato Roseno, PSOL state deputy in northeastern Ceará and Franco's colleague.
Franco was raised in Maré, a slum in northern Rio de Janeiro, where she also resided for most of her life. She gave birth to her first and only child when she was 20 years old and raised her daughter without the father's help and worked as a pre-school teacher making minimum wage. In 2000, she began her pre-university studies.[8] Following the death of a friend from a stray bullet in 2000, Franco began working in human rights activism. In 2002, she entered the Pontifical Catholic University on a scholarship and continued working and raising her daughter as she earned a degree.[She went on to earn a master's in public administration from the She wrote her master's thesis on the law enforcement program to retake control of the city's favelas from gangs.
Before running for city council, Franco worked for state representative Marcelo Freixo as a consultant and helped coordinate the Committee for the Defense of Human Rights and Citizenship on the Legislative Assembly of Rio de Janeiro (ALERJ). In her bid for a seat on the Rio de Janeiro city council in 2016, Franco received 46,500 votes, the fifth most votes out of more than 1,500 candidates and was one of 51 people elected. As a city council member, Franco fought against gender violence and for reproductive rights and the rights of favela residents. She chaired the Women's Defense Commission and formed part of a four-person committee that monitored the federal intervention in Rio de Janeiro. Working with the Rio de Janeiro Lesbian Front, Franco presented a bill to create a day of lesbian visibility in Rio de Janeiro in August 2017, but the bill was defeated by a vote of 19-17.
In the year of a presidential election whose outcome is particularly unpredictable, one question now is whether the anger and frustration unleashed by Franco's murder can be harnessed to drive change.
At the protest in Rio after her death, many expressed fears that if a high-profile, elected official could be eliminated in this way, how dangerous was it becoming for ordinary people to challenge the authorities and the status quo.
Theresa Williamson said: 'At the protest [after Franco's death], multiple speakers insisted that what we need is a "social intervention", investment in schools and hospitals. The same focus as at the 2013 protests that took 300,000 to Rio's streets before the police frightened us half to death, keeping us away. Until tonight that is. This is not rocket science. What Rio needs is hope and opportunities that come through investment in the city's people and its youth. People attribute low crime rates in pre-Olympic Rio to economic prosperity and community policing, but from our perspective, the key ingredient was hope. We had never seen favela residents as hopeful as in the 2009-2011 period, until forced evictions and police torture unmasked a new era of neglect and repression'.
Supporters and residents from Maré plan to continue protests in Brazil and abroad to ensure that Franco's legacy is not fear but the return of that hope.
This piece was written by one of the many experts at Latin American Bureau. Reporting for this story was made possible by a residency at the Casa Pública (a LAB partner) in Rio de Janeiro. For more articles from LAB go to https://lab.org.uk
Cuba's natural setting, with its own historical and cultural...
From garage parties in Panamå to the awards ceremonies of Miami, how...