MINEFIELD @ The Jerwood Theatre
This challenging work by Argentine playwright Lola Arias, based on six Falklands/ Malvinas war veterans, and developed entirely by working with the men, their diaries and experiences, had resounding success with its debut last year. It's no surprise that this deeply humanizing theatrical experience has returned for an all too brief stint at The Royal Court's Jerwood Theatre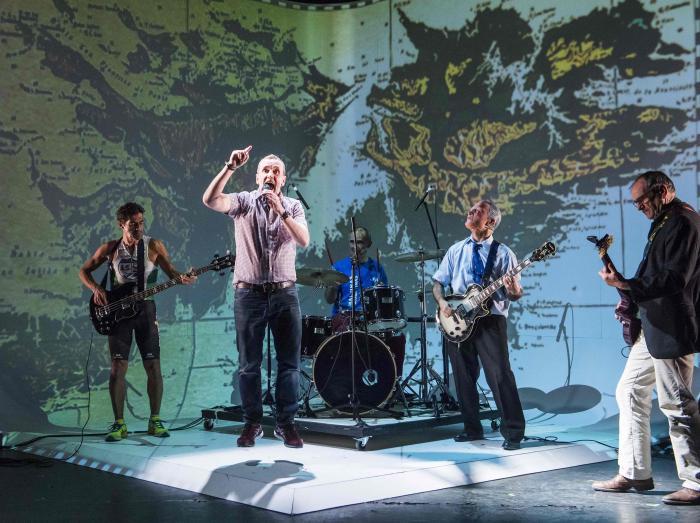 In minefield, war veterans from both sides of the Falklands/Malvinas conflict that began in April 1982, recall their pain, their sorrow and their memories, with projected images, interviews from the time, and even material from their own letters and diaries.
Once fighting each other across the battlefields of the British owned island of the South Atlantic, one might expect a political piece, but it turns out to be a deeply humanizing experience for the audience, and clearly, it must have had a therapeutic element for the participants themselves. Emotions that were once blind rage developed a context and understanding, and finally these veterans are able, not only relate to each other, but to share some of their pain too.
This is not conventional docu-drama though, there are layers of images and sounds from the time, photographs, letters, music and the use of projections and Foley sounds which give it a punch. Beautifully choreographed by Lola Arias, the power of the play lies in the structure she created for these stories to unfold in a natural and organic way. Doubtless having the actual veterans onstage is effective, there is no faking here, we know everything is real and that gives it a raw undertone that makes the play all the more moving.
The music is provided by the veterans themselves who turn out to be accomplished musicians. They have a five- piece band, called the "Get Back Band" which is loud energetic, true to form and good fun. They play is both in English and Spanish with subtitles, so it is easy to follow, while maintaining authenticity of the language.
The veterans themselves comment that the war lasted 74 days but their workshop and rehearsals to develop this play lasted a lot longer than that! There are three British veterans and three Argentines.
Lou Armour, who was captured by the Argentines, has now become a special needs teacher. Rubén Otero, one of the lucky survivors of the doomed ARA General Belgrano, now heads a Beatles Tribute Band. David Jackson, a radio coder during the war, studied psychology and became a therapist. Sukrim Rai is a Gurkha who now works as a security guard. Gabriel Sagastume, a reluctant soldier who hoped he would never kill anyone, has become a criminal lawyer. Finally, there is Marcelo Vallejo, a very physically fit person who was always proud to be soldier and was a mortar aimer during the conflict, has since becomes a triathlon champion.
So, they are as varied as any group in the general population. This is a war and a story that remains basically unknown. Schools children are not taught about it, so that apart from a few headlines during the conflict, it has faded from many people's minds. Yet, here, these veterans have come together to confront their demons and ended up creating a powerful human story.
It is a distinctive characteristic of Lola Arias to work with 'real' people, people who have lived the experiences they are enacting on stage. There is a dignity in the authenticity that is particularly effective. In 2013 she put together "The Art of making Money" which was performed by the street musicians, prostitutes and beggars from Bremen in Germany. There is also the earlier 'Mi Vida Después' (My Life After 2009), with performers who reconstruct their own parent's youth during the difficult 70s in Argentina, with music, letters, news, photographs and old clothes. In Chile, in 2012, she created 'The year I was born', based on the biographies of people who were born during the Pinochet dictatorship. It is easy to see, therefore, that there is a deeply political motivation present in all her work, but it is subtle and revealed through the human stories, no Agit prop here! There is also humour and as Minefield proves, an impeccable sense of timing and place.
Lola Arias is a multi-faceted artist. She has also composed and recorded music with Ulises Conti (who created the music for Minefield) and has released various albums: "El Amor es un Francotirador" (2007) Love is a Sniper), and Los Que no Duermen (2011) (Those Who Do Not Sleep). There are also published poems and fiction. Her work has been staged all over the world including the Lift Festival, Festival Theaterformen, Spielart Festival (Munich), and the Alcantara Festival in Lisbon, the Red Cat LA, the Museum of Contemporary Art, Chicago and, now once again. the Royal Court Theatre in London.
Minefield as a name, has many connotations in this play, it could refer to the mere confrontation of previous enemies, a 'metaphor for the treacherous terrain of memory', or even to a real minefield in which some starving Argentine soldiers perished when searching for something to eat. It transpired the fields had been mined by the Argentine military but they had omitted to tell the soldiers who were fighting in the area. Emotions are exposed for all to see, some dirty linen and some heart wrenching moments, bringing to the fore an honesty and a directness that comes across creating a great deal of empathy for all six men.
The politicians are seen as false as ever, with Galtieri and Thatcher's live broadcasts resounding as they wore some very effective masks. Lies and cover- ups exposed from both sides, both in the politics and the history.
Is there a definitive truth to tell? Perhaps we will never really know. But Lola Arias and the 6 veterans give it a good try!
Minefield will be at the Royal Court Jerwood Theatre downstairs till Saturday November 11th 2017. Tickets from £12 here
Lola Arias WRITER AND DIRECTOR
Sofia Medici RESEARCH AND PRODUCTION
Luz Algranti RESEARCH AND PRODUCTION
Mariana Tirantte SET DESIGNER
Ulises Conti MUSIC COMPOSER
David Seldes LIGHTING DESIGNER
Martín Borini VIDEO DESIGNER
More info on Lola Arias: http://lolaarias.com/proyectos/campo-minado/
Cuba's natural setting, with its own historical and cultural...