Our Latin Thing: An interview with Roberto Pla
Whether as percussionist of choice for the UK's pop bands (Joe Strummer, The Cure, Kate Bush, Boney M) or bandleader, composer and arranger, timbalero extraordinaire, Roberto Pla, has come to be known as The Godfather of Latin Music in the UK. Celebrating 30 years in London leading his Latin Ensemble band at the Barbican Centre on Saturday July 16, we talked to our very own London salsa legend.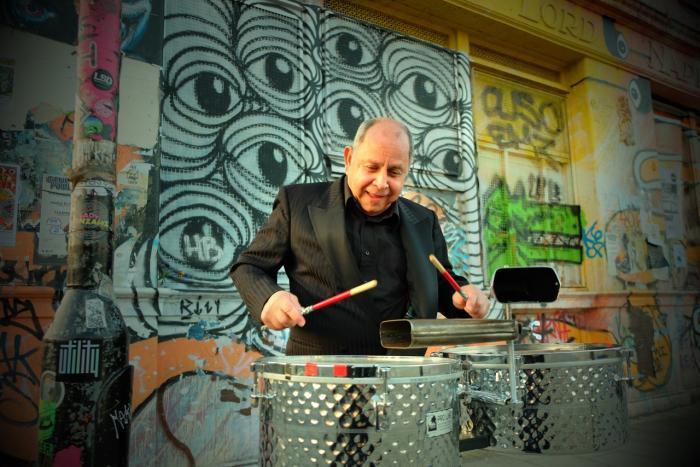 Born in Barranquilla, as a youngster Roberto Pla re-located to Bogota, where he became a session musician. He played percussion with Los Ocho De Colombia and kit drums with Colombia's favourite Big Band, Orchestra Lucho Bermudez. From there he headed for New York, before finally making it to London.
His time in London has included stints with some of the early Latin-influenced bands as well as leading his own Latin Ensemble. He's also toured or recorded with everyone from Punk icon Joe Strummer to the enduring post-Punk band, The Cure, by way of Kate Bush, Boney M and the "Hot, Hot, Hot", Soca legend, Arrow. Roberto has played everywhere and with everyone and has appeared at the Barbican previously with the Jazz At The Lincoln Centre Orchestra led by Wynton Marsalis. He has headlined the 'Glasto Latino Stage' at Glastonbury Festival and subsequently won two LUKAS awards, one for Lifetime Achievment.
His up coming show will be his first headlining show at the venue and will be the first time ever that so many Latin musicians have played together on the stage in London with so many local UK stars.
Latinolife: How did you get into music and who was your biggest inspiration?
R.Pla: I was brought up in Barranquilla Colombia, where everyone is a music fan-even the taxi drivers are composers. My Dad loved boleros and sang them to my mother. The first time I heard the sound of drums I knew they were in my life to stay and went to study with Pompilio Rodriguez, drummer with the Pacho Galan Orchestra. Pompi was a master percussionist, educator and Innovator and soon I was playing with local groups...later on I went to live in Bogota where the live music scene was brilliant..I knew already quite a few musicians there; among whom was my dear friend Juan Carlos Cuao, drummer with the great master Lucho Bermudez (Big Band Orchestra ) top band in Colombia at the time.
One day Juan Carlos told me he was leaving L.B. Orchestra and suggested I attend an audition to replace him, at Lucho's Night Club ''Candilejas ( The home of the Orchestra 57 Street between Caracas Av and 13th Av. Bogota). I got the job and this changed my life. So to answer your question, my biggest inspiration is : El maestro Luis Eduardo Bermudez Acosta. RIP.
LL: How have you managed to evolve with the times:
R.Pla: I'm always keen to work with and showcase upcoming talent. I regularly commission new arrangements and constantly review our repertoire / set list, to move with the times. However the band has become an institution over the last 30 years and, in terms of style and quality, our fans have a good idea what to expect.
Latinolife: How has the latin scene changed in London since the 70s:
R.Pla: when I arrived in UK, the late 70's the live music scene were flirting with the latin rhythms or afro-influenced music. There werev Latin fiusion bands, but no proper Salsa, until Stan Rivera, Dave Pattman and myself formed the first London based Salsa band in 82 called Valdez and SONIDO DE LONDRES, the rest is history. Now there are Salsa bands in Ireland-Scotland and all over the UK there are latin Clubs. With the arrival of more latino, especially Cuban, musicians in the last 10 years there are less and less bad quality copy-cat bands, and bad fusion bands, the music is better than ever and the Latin scene is alive and kicking.
In a way the concert next week is a chance to bring together the best musicians (20 on stage ) playing Latin music - Alex Wilson, Snow Boy- from Caracas via New York Watussi- Robin Jones-Nolita P. Golding-Jose A. Cascaret-Luz Elena Caicedo-Lino Rocha-Dorance Lorza-Carlos Pena- Jose H. Arias-Omar Puente -London Choir LUCUMI-Juanita Euka- SKA Cubano.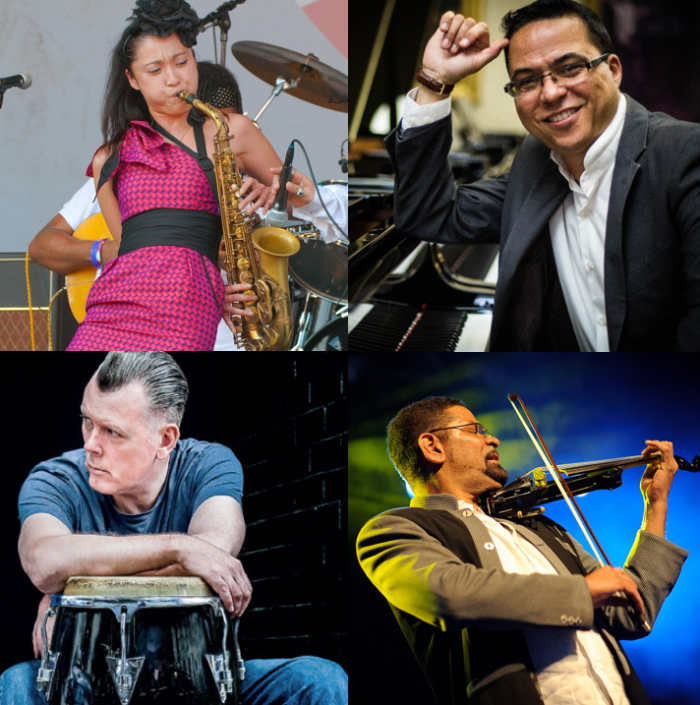 How does it compare playing Latin music with native Latin American and English musicians?
R. Pla: The community of musicians that play Latin music is amazing. They discovered the music and they just love it. The British and European players have the concept and they play as well as any Latino. The standards are much higher. The musicianship and professionalism are second to none. I have played with (percussionist) Dave Pattman for years; (trumpeter) Sid Gauld knows the vocabulary of both Latin and Jazz inside out. It's a privilege to have him in the band. There are great players like Paul Taylor (saxophone) and Paul Jayasingha ("Cuban bands would say ""What about that trumpet player with the pony tail?""). Alex Wilson fell in love with the Latin beat and now runs his own bands."
Latinolife: Salsa has become one of the most popular dances in the UK, from community centres in small towns to big concert in London, how did that happen?
R.Pla: This started happening in the late eighties with the advent of Salsa dance clases/Teachers. It is a great way for people to exercise and make new friends.
Latinolife: More recently there seems to have been a disconnection between live salsa and the salsa dance community, how do you think this can be reconnected?
R.Pla: I would agree with you but it has created a new audience for our band which has been very positive. I would encourage salsa dance teachers / promoters to feature live music-which some are already doing.
Latinolife : Cali, Colombia ,is now the undisputed capital of salsa, what do you think about that?
R.Pla: Cali has a vibrant salsa scene. I'm a Barranquillero from Colombia's Caribbean coast and I would recommend a trip to the Barranquilla Carnival which is bursting with live salsa and tropical sounds.
Latinolife: A lot of the salsa bandleaders and leading percussionist in the UK had been your pupils at one point or another, how do you feel about that?
R. Pla: It has been a privilege to introduce this talented group of musicians to the Clave beat, many of them have also learnt some spanish from me!! Some of them have made it really big in the pop scene/international music scene and that has been particularly exciting. A lot of them credit me on their CV's / press quote/ bi-line /websites, so what goes round comes around!
LatinoLife: We hear you are also celebrating the music of Fania on that night and the 40 year release of the defining salsa documentary Our Latin Thing, which starred the likes of Willie Colon, Hector Lavoe, Ray Barretto, Larry Harlow and Johnny Pacheco…
R. Pla: Fania did a fantastic job for Latin music all over the planet, the music is known all over the world thanks to Fania. There are Latin bands in Japan, in India everywhere. The Fania All-Stars went everywhere and those guys individually were band leaders in their own right."
LL: Sound like an amazing event…can't wait!
Book your tickets at http://www.barbican.org.uk/music/event-detail.asp?ID=19670
An Ethnography of the Peace Community of San José de Apartadó,...