Paradise City by Joe Thomas (Arcadia Books)
American style 'noir' set in South America's biggest megatropolis - a lonely cop's battle with corruption, despair, and his own demons makes for an enthralling Sao Paulo thriller.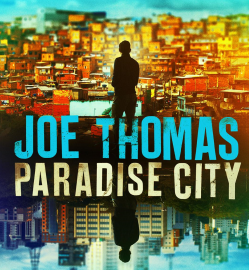 Leme is that rare thing in the Sao Paulo police force: an honest cop. This means that his career is going nowhere fast, and his private life is no more promising. His wife Renata, a lawyer working in the sarcastically named slum Paraisópolis was killed a year earlier, apparently by a stray bullet in one of the many shootouts between the military police and the drug gangs. Leme is still haunted by her death, and this means that he spends much of his time parked on the edges of Paradise City, desperately trying to discover the truth about how she died.
As he is sitting there early one morning, he witnesses another death: that of a rich young man whose SUV flips over as it careers down the road out of the favela. According to the police, this was nothing more than an unfortunate accident, but Leme has seen the bullet wounds that were the real cause of his demise.
When Leme and his partner Lisboa want to follow up on their suspicions, they are firmly told by their bosses that there will be no investigation. And so Leme decides to do his own digging. His search takes him into a very different but equally corrupt side of the city. Here it involves high finance, and all the shady deals involved with the redevelopment of the centre of São Paulo. We are in the Brazil of the soccer World Cup and the upcoming Olympic Games, when it seems there is no limit to the amounts of money to be spent on grandiose schemes throughout the country, although the first revelations of the widespread political corruption of the mensalão scandal are beginning to surface.
Leme's investigation leads him to Mendes, the head of the companies that are winning most of the lucrative construction contracts. Leme uncovers not only financial abuses, but a much darker side to Mendes' life. This shows how the violence of the favelas is intimately linked to the outwardly far more respectable world of those paulistas who display their wealth in a very different version of paradise. Leme comes painfully to realise that Mendes is untouchable as far as the law is concerned, but a kind of rough justice is delivered when these two opposing worlds collide.
There is one final twist to the story, but in the end Leme survives, and even begins to allow himself to move on and lay his own ghosts to rest.
Joe Thomas, who lived in São Paulo for a decade, uses his first-hand knowledge to convincingly bring the city to life. His visceral descriptions recreate its sounds, smells, the clashing cityscapes of what Leme calls 'a plague of 20 million rats, sniffing and scavenging'. The everyday horrors of the violence in the favelas are vividly conjured up, from the gangs who throw acid into car drivers' faces to steal, to others who smuggle drugs inside the dead bodies of babies.
Thomas's style and approach owes a lot to the hard-boiled North American tradition of noir: the lonely cop fighting his largely doomed battle in a dark world of corruption, the temptation to give in to despair and his own demons, his inability to communicate with others, but his stubborn honesty.
Thomas has swapped Los Angeles, Chicago or New York for one of Latin America's toughest urban centres. In the end the main protagonist of the book is the city itself, with its huge amoral energy, its 'illusion of progress' that swallows up the hopes and dreams of individuals in a blind vortex that no one seems able to control or channel, and where the rare glimpses of paradise are a mocking illusion.
Corina Poore talks to Gustavo Salmerón, who made a unique film about...
With a name like Che Sudaka, you can't help but be curious. We...