Peru: Odebrecht - The Fall Out
David Wright in Lima reports on a scandal that spans three Peruvian presidencies and probably includes the current one...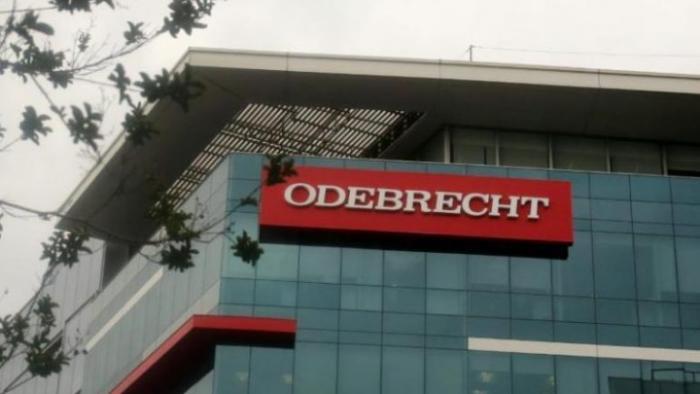 Dominating the headlines in Peru over recent weeks has been the revelation (or rather confirmation of what many suspected since the Lava Jato scandal broke in Brazil in 2014) that the Brazilian civil engineering giant Odebrecht had paid out millions in bribes to secure contracts for major infrastructure projects, such as a transoceanic highway and a gas pipeline.
The US Department of Justice has disclosed that Odebrecht admitted having paid out bribes to Peruvian officials and politicians amounting to US$29 million between 2005-2014, spanning the terms of three presidents, Alejandro Toledo, Alan Garcia and Ollanta Humala. Nobody in Peru is surprised at this disclosure but believe that the $29 million is only the tip of the iceberg. The US Justice Department has not named any names, but Humala, for instance, was actually accused in February last year of having personally received bribes amounting to US$3 million.
The story does not end with the three ex-presidents since the current president Pedro Pablo Kuczynski was prime minister under Toledo and must have been privy to the contract that was signed under his administration for the construction of the Transoceanic highway, the need for which was never proved and which lies idle since its completion two years ago.
Toledo himself has been under investigation for the past three years to establish the source of millions of dollars invested by himself, his Belgian wife and mother-in-law in the peruvian property market. These investigations remained at a standstill under President Humala and his wife Nadine, aware that If put up against a wall, Toledo would spill the beans on their misdemeanours.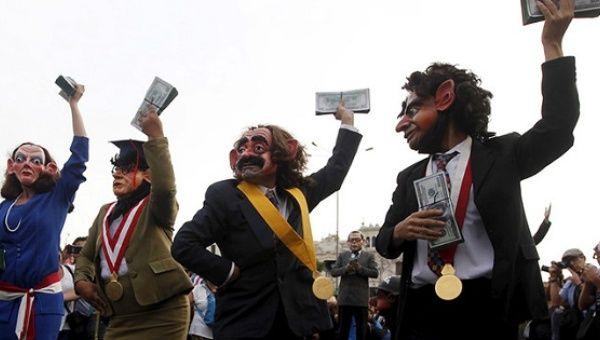 Peruvian anti-corruption protesters ahead of 2016 election
For the same reason, we cannot expect the Kusczynski administration to be in any hurry to plumb the depths of Odebrecht's corruption in Peru when Kusczynski himself had to assure the outgoing Humala administration that its corrupt practices would not be investigated to secure his election last year and since, as already mentioned, he must have been privy to ex-president Toledo's dealings with the Brazilian company. The US Justice Department revelations ensure that those dealings can no longer be covered up so easily.
According to the figures released by the US Justice Department, the $29million forked out by Odebrecht to secure contracts in Peru is only exceeded in South America by the $35 million paid out to intermediaries and functionaries linked to three infrastructure projects in Argentina during the Kirschner husband and wife presidencies to secure infrastructure projects there between 2007 and 2014. Odebrecht officials have also admitted to paying out $3million to finance the electoral campaigns of Hugo Chavez and Nicolas Maduro in Venezuela.
The story still has a way to run, indeed may only just be beginning. Brazilian engineering companies have contracts worth over US$20 bn in Peru of which Odebrecht only accounts for $12 bn. It is not realistic to assume that other Brazilian companies such as Camargo Correia and Andrade Gutierres act any differently.
Till now, we are limited to information extracted by Brazil's state prosecutors from Odebrecht under plea bargaining agreements entered into by the company's executives and passed on the the US Justice Department and Swiss authorities. It will not be long before Peruvian state prosecutors are in a position to name politicians that have received bribes in the same way as has taken place in Brazil. They already have the names of intermediaries which they have not yet released.
However, past experience does not encourage one to believe that this corruption scandal will not end up in the dustbin like so many others before it. The government of Pedro Pablo Kuczynski, singularly lacking in vigour in practically every domaine, has yet to show any interest in identifying the culprits and punishing them. They have yet to bring Odebrecht executives in for questioning or to even search the company's Peruvian offices. Their overriding concern appears to be to find a buyer for Oderbrecht's stake in the consortium that won the tender to build the Gasoducto del Sur (southern gas pipeline), irrespective of the legal implications, so that this important infrastructure project can proceed.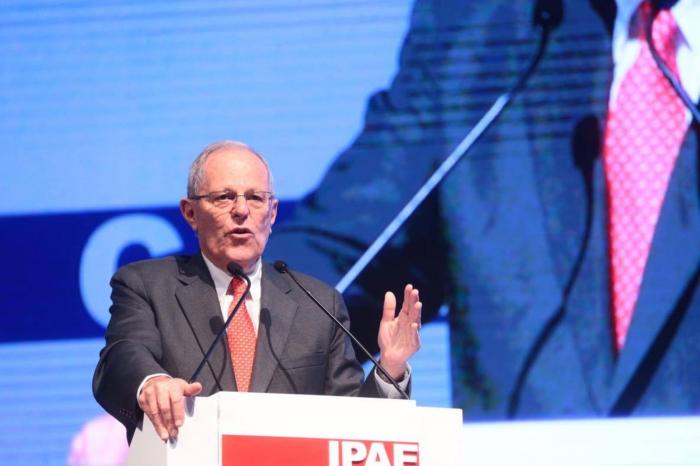 Current President Kusczynski 'lacking vigour'
Enter Chinese investors as knights in shining armour, to move in and take up the space vacated by the Brazilians. First up is the Gasoducto del Sur intended to transport gas from new fields to feed a petrochemical complex to be built on the Pacific coast in the south of the country. Oderbrecht must sell its 55% stake in the project as it is no longer in a position to raise the finance for its development. Unfortunately, this stake comes with an anti-coruption clause which would make whoever takes it over liable for whatever malpractices have already been committed and which subsequently see the light of day. This understandably frightens away most Western candidates, but the China National Petroleum Corp (CNPC) is understood to be trying to negotiate a way round this.
CNPC has been exploring in Lot 58, bordering the existing Camisea gas field on the eastern side of the Andes, and is building a storage facility in the southern port of Ilo which indicates that it has proven reserves sufficient to justify buying Odebrecht's stake in the pipeline, the total cost of which is estimated at US$4.1 bn. if a way round the anti-corrpution clause can be found. The chances of this look good as the Peruvian government, anxious not to have to call a new tender which would mean delaying the project at significant cost to the country's economy, has every incentive to find one. Negotiations are also underway with Brookfield, a Canadian hedge fund which may be acting as a front for unidentified Brazilian investors.
Corina Poore talks to Gustavo Salmerón, who made a unique film about...
This month's dancefloor hits by award winning Cuban DJ, Javier...