Radical Beauty
Every now and then, someone special emerges through the crack in the music industry monolith to grab listeners' attention. Marta Gómez is one of those artists. Her authentic sound, her story-telling and meaningful lyrics have struck a chord with Latin music listeners worldwide, who are bored with the generic, copy-cat pop that has so dominated the Latin music world in recent years. Are we seeing a resurgence of Canción Social? Jose Luis Seijas asks.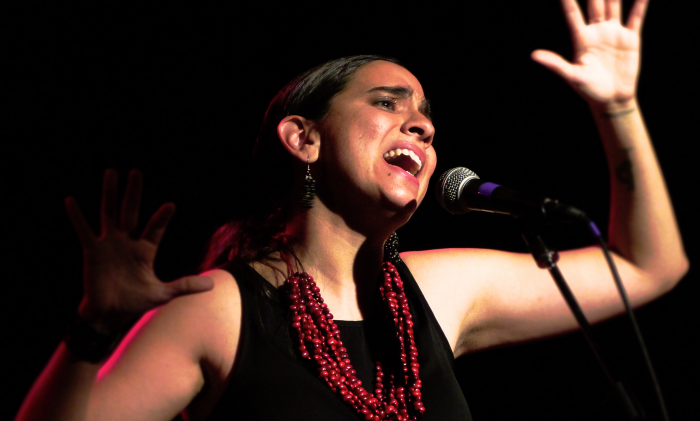 Her dreamy brown eyes and soft skin are the ingredients of a Latina pin-up. But this unlikely Latin Grammy winner, a graduate of the Berklee College of Music, is more reminiscent of Silvio Rodriguez than Shakira. Her fusion of folk and social commitment have led many to compare her to Mercedes Sosa, the Argentine queen of canción de protesta or canción social, the political folk music that was so popular in the 70s and 80s. But singer-songwriter Marta Gómez offers a simpler description:
"For me it's very simple music, and I don't mean that in a crude way; it comes from the heart, which is perhaps why it also reaches the heart. I know a lot of musicians that work for the final product, but for me it's all about the process. We work for the story and the characters in the song, it is something very organic. We don't really do much promotion, but with time I've picked up very loyal following, which is a beautiful thing."
Unsurprisingly, Marta's main musical influences are the trovadores that came out of the politics and social movements protesting the dictatorships that swept Latin America; Pablo Milanes and Silvio Rodirguez in Cuba, Mercedes Sosa and Leon Gieco in Argentina, Violeta Parra in Chile, Panama's Ruben Blades…
"For me the message is very important and for that message to resonate with people. I'm always aiming for a social, poetic and human depth to my songs. I don't like talking about love, in fact I never really sing about romantic love, I like different stories, different people, that's the focus I try to give to my music. I want my music to mean something, beyond just the personal."
Latino Life: You mention folk music. Colombia has a very rich folk heritage. Do you come from a folk background?
Marta Gómez: I like that question a lot! I love folk music, all kinds of folk from all around the world, but I am not a folk singer per se; I wasn't brought up in the countryside, I didn't grow up playing those instruments. I grew up in the city listening to urban music…Salsa, Boleros, Vallenatos…everything you could hear on the radio. I respect and admire musicians whose job is to keep the purest forms of folklore, and I love Simon Diaz, but being from the city, I am naturally a fusion artist, since I've been influenced by Hip Hop or Reggaeton. But in the end, I don't set out to mix or blend different music, I see myself as more of a story teller, through the music that comes most naturaly to me.
LL: You're known as a solo artist. Do you have a permanent band?
MG: I lived in the U.S. for many years, and I had a regular band, and when I go to the States, they are still my band. But when I moved to Spain I had to form a new band. Lately I have been working a lot in Latin America and I also have a band there. I miss playing with the original band I played with for 11 years. Playing with different bands means continually refreshing the music and it has allowed me to gig a lot more. Before I could only play in places where they could afford the whole band and now it is a lot easier for promoters. For example I can come to Colombia for a couple of months, stay with my family and work with musicians here. Or I can go to Argentina and have my band in Argentina. It's really a beautiful journey working with different musicians, especially because most of them are not in it for the money. They just want to make music."
LL: It seems from your success that this kind of music is becoming popular again…
MG: "It is music made with a lot of care and little by little, we are playing to larger audiences, especially with the festivals. You have to remember that Silvio Rodriguez and Mercedes Sosa used to fill massive stadiums, so step by step we're trying to get new audiences engaged. And our fans are not really the ones that go crazy for you for a month then forget about you, but more of a loyal following that has been listening for years and pass it on to their children, so it becomes something more permanent."
What is interesting about the success of this 'simple' approach is that it reflects what is also happening in politics - the Jeremy Corbyn phenomenon, as it were. It seems that people are seeing value in being a normal human being, in being decent rather than privileged, and turning away from the obsession with wealth and celebrity in music of recent years. Perhaps music with meaning and value, that we associate with politicized times of the past, is having a resurgence.
LL: As well as the socially conscious artists of the past, which contemporary artists do you identify with now?
"I love Jorge Drexler who is a great influence for most contemporary Latino singers/songwriters, in my opinion. I also like what Lila Down and Julieta Venegas are doing… also Juan Luis Guerra. I would love to work with Jorge, also Rene Perez from Calle 13. I think he is a marvelous poet."
LL: What are you doing at the moment? Is it being a Latino singer in the US different to being a Latin American singer in Spain?
MG: right now we are mastering two very nice projects. I've been trying to do them for many years and have finally managed to do them. The first is a Christmas album, a compilation of villancicos and aguinaldos and Latin American Christmas songs, it's almost finished. And the second one is coming out in April, it's a double album of children songs. I had already recorded bits of it, but I had to stop it to record "Coloreando" the one that got me the Grammy. But recently I managed to finish the whole thing. I like having little pauses in my "grown up" career. During those pauses, I like doing albums for kids, that Christmas album, the album that was a tribute to Federico Garcia Lorca…they are my little pauses but they are all part of the same path.
LL: That sounds great, and what have you prepared for the London show?
MG: Our group is drum set, bass, guitar, flute, and the quena and all those Andean instruments, with me singing and playing guitar. What we'll try to do with the live show will be very faithful to our album recording. It is all about the music. A nostalgia trip to Latin America, people will feel a connection to their Latin American roots. Something that happens a lot is that people who don't even speak Spanish fall in love with Latin America. After a concert they feel the urge to go to Colombia or Chile, as I sing music from all over the continent. I love rhythms from Chile, Peru and Argentina. There is a strong connection with all that. And people who are not even from there understand the beauty of the songs, find a kind of link to the land those stories originate from, and make a journey into our beautiful Latin American landscapes.
Marta Gomez will be performing at The 229 in Great Portland Street on October 19.
For tickets: www.latinolife.co.uk/tickets