San Juan Noir
Award-winning Puerto Rican poet and novelist Mayra Santos-Febres has been a pivotal literary figure in her island home for many years, championing the work of upcoming writers through her creative writing classes at the University of Puerto Rico, and playing a key role in the annual Festival de la Palabra/Festival of the Word. One of her most recent triumphs is as the editor of San Juan Noir, an anthology of 14 crime stories set in the historic capital San Juan that have all been written specifically for this volume by the hottest contemporary talents both on the island and from the Puerto Rican diaspora in New York. Santos-Febres even includes a story of her own about a frosty-hearted hit-man who is fatefully hit by cupid's arrow when he's sent to kill a sensuous morena. Russell Maddicks spoke to her about crime fiction in Latin America and her experience of editing San Juan Noir, the devastating impact on the island of Hurricane Maria that is still being felt today, and her thoughts on that most divisive of characters, US President Donald Trump.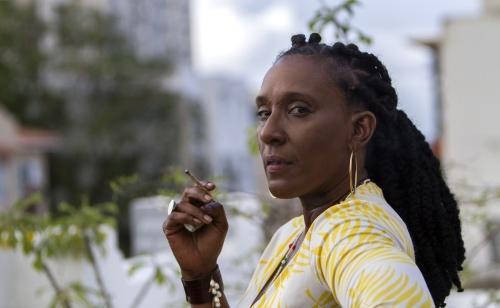 Published by the groundbreaking Brooklyn-based publisher Akashic Books, the Noir series started with volumes dedicated to the darker side of US cities but has since gone global, branching out to embrace Latin America and the Caribbean, including the cities of Rio, Buenos Aires, Havana, Kingston, and Mexico City. A book of crime stories dedicated to the Colombian capital Bogota is also currently in the works.
With so few anthologies of Latin American fiction being published in English the Noir series provides a rare opportunity for readers to catch up with both established names and younger authors writing in Spanish. A reflection of Puerto Rico's dual identity Santos-Febres insisted that San Juan Noir be published in both English and Spanish editions, a welcome development that could hopefully see more dual language books being published in future.
Q: What were your first thoughts when Akashic approached you to put together an anthology of crime writing from Puerto Rico?
A: My friend [the Guatemalan author] David Unger took me to see the founder of Akashic Books Johnny Temple at the Miami Book Fair. We went to his stand there and I saw all the anthologies produced by Akashic. The "Noir" collection caught my eye."Why isn't there one about Puerto Rico?" I asked Johnny. "Do you want to edit it?" he answered. That's how it all started.
Q: There's a long history of fantastic crime fiction in Latin America, from the Argentine short-story master Jorge Luis Borges, to Gabriel Garcia Marquez in Chronicle of a Death Foretold, and the hugely successful Havana novels by Cuban writer Leonardo Padura. Do Latin American authors bring something special to the crime genre?
A: Latin America does bring a special something to crime fiction. Basically it's the ambiance, a different kind of "noir" filled with intense heat, tropical trickster humour, our very own version of political corruption, and the breakdown of the idea of "natural paradise" that people imagine when they think about the Caribbean or about Latin America. Violence has a different meaning in our countries.
Q: And Puerto Rican authors?
A: Due to the very tense and convoluted relationship between the US and Puerto Rico, especially after Hurricane Maria struck the island, FEMA [the Federal Emergency Management Agency] refused to grant aid to many Puerto Ricans. Because of our second class citizenship in the US, and our diaspora, we can contribute a different kind of perspective to crime writing. Our violent and corrupt institutions feed off the relationship with the Big Brother up North and its peculiar ways. It's like writing about two countries at the same time.
Q: The tragic devastation wrought by Hurricane Maria exposed many of the political, economic, and social problems the Puerto Rican people face. How has literature fared in this climate of uncertainty?
A: We are just recovering, very slowly recovering from the hit. Right now, I am writing this in a hurry, because Tropical Storm Beryl is on its way and many of us fear that we will be without electricity for a while. There is an anthology entitled "Cuentos de Huracán" that we published through donations as part of the work we do at El Festival de la Palabra/The Festival of the Word in San Juan. I also published "Huracanada" a poetry collection and I am currently writing a non-fiction novel. However, I think that the literary community needs time to recover. Printers are still closed or have gone out of business. The book industry is in shambles. There is still much to be done to bring the scattered pieces together in order to produce books that deal with Puerto Rico after the hurricane.
Q: You mention in your introduction to "San Juan Noir" that Puerto Rico's capital is the oldest Spanish settlement in all the territories and colonies of the United States. How does Puerto Rico's complex historical relationship with the USA influence its literature?
A: Puerto Rico is a Latin American and Caribbean country that is also a colony of the United States. We live under an economic embargo - the Jones Act - which requires that every item that gets imported to Puerto Rico, and every product that we want to export has to enter or leave the island on a ship flying the US flag. This has killed our chances of self sufficiency. Culturally speaking, we benefit from the wonderful civil rights victories that afro-descendants, women, and LGBT communities have won in the US. But, we are still treated as illegal aliens when we travel or move to a country that is very different from ours. So, being a Puerto Rican is like being an alien in many communities at the same time. You are, but you are not, African American, legal, illegal, immigrant, Latino and Latin-American. That, of course, influences our literature.
Q: Are there any common threads that link the stories being produced by Puerto Rican writers on the island and the Nuyorican writers who have grown up in the barrios of New York, whether in Spanish Harlem, the Bronx, or Brooklyn, where Akashic books was born?
A: I think that Puerto Rico is more than an island and that our diaspora completes us. There is no difference between a Puerto Rican writer born in the States and those of us born on the island. You know how literature works in mysterious ways. Some of us write in English, but with a Puerto Rican Spanish tonality, others in Spanish with a swing that comes from the English that we have taken over. And it's all good. I only hope that any difference keeps creating diversity, the rich diversity of Puerto Rican voices in literature and throughout the world. In this way we can participate in global dialogues, such as the ones that Akashic Books believes in and works to support.
Q: Was it hard to select 15 writers for San Juan Noir? Did you find yourself expanding the definition of crime fiction to include stories you liked?
A: No, it was not hard to select 15 writers for the San Juan Noir anthology. I had to leave some out, because of editing requirements -- some of the stories were too long, and some writers could not meet the deadline. However, all the stories have crime at their fictional centre. In Puerto Rico we have so many examples of random violence, corruption, and deceit; as many as any other part of the world. It was a fun experience.
Q: Unlike the other Latin American anthologies in the Noir series San Juan Noir is published in an English-language version and a Spanish-language version. Does speaking and writing in Spanish constitute an act of defiance in a United States that has become increasingly hostile to Latinos under the administration of Donald Trump?
A: Spanish is the main literary and everyday language for many Puerto Rican writers. This is true for many of us. Speaking in Spanish (which, by the way, is just another colonial language) has always been an act of defiance, even before Trump. And, by the way: Trump es un pendejo! There, I said it in Spanish. I can say it in English, but one can only curse effectively, passionately, and truthfully in a language of one's own.
Q:As a long-time traveller to Latin America, I always feel that reading short stories and novels by local writers helps me to understand the culture. What do you say to those who complain that a book of crime stories might put off potential visitors to Puerto Rico?
A: Right now, what is putting off tourists from coming to Puerto Rico is the destruction caused by Hurricane Maria. Surprisingly, crime has gone down. However, the tourists are not here. Tourism is a voyage guided by fantasy. There is no discovery when people travel as a tourist. Travellers and tourists are not the same kind of voyagers. I think that crime, devastation, and taking part in a country's rebirth attracts travellers. Right now, Puerto Rico is filled with travellers. There are not many tourists visiting the island at the moment.
Q: What are the other new books of Latin American literature in English translation that we should be seeking out in your opinion? Who are the writers making waves these days?
A: You see, in the US they translate less than 2% of the literature written in languages other than English. I do not think that the US literary market is very interested in offering its readers different perspectives on what the world feels like. There are so many writers from all over the Caribbean and Latin America that should be translated into English. The list is intense: Rita Indiana and Frank Báez from the Dominican Republic; Sergio Gutiérrez, Juanluis Ramos, Edmaris Carazo, and Tere Dávila from Puerto Rico; Wingston González from Guatemala; Warren Ullóa and Carlos Cortés from Costa Rica; Fernanda Melchor and Julián Hebert from Mexico. Oh, and Elmer Mendoza and Perla Suez from Argentina. And so many more. I guess the only thing to do is for many more US people that love literature (and people, and life) to learn Spanish. I highly recommend this alternative.
You can buy a copy of San Juan Noir at http://www.akashicbooks.com/catalog/san-juan-noir-puerto-rico/
Russell Maddicks is the author of the Bradt Guide to Venezuela, and Culture Smart! guides to Cuba, Mexico, Nicaragua and Ecuador. He is currently researching and writing a new edition of the Bradt Guide to Colombia.
Cuba's natural setting, with its own historical and cultural...
From garage parties in Panamå to the awards ceremonies of Miami, how...