Standing Ovation for an Argentine
Santiago Peluffo reports on this week's emotional standing ovation for Argentina's Jonás Gutierrez at Newcastle Football Club and interviews the player and his parents on his the recovery from testicular cancer.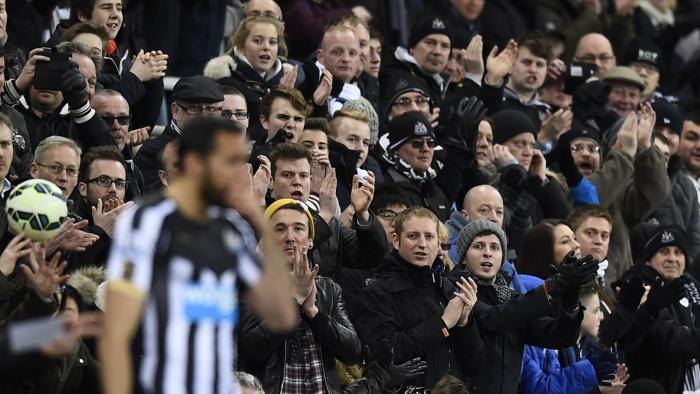 It's not every day you see 50,000 Englishmen cheering for an Argentinian – especially at a football match. But there was a very good reason for both Newcastle and Manchester United supporters to give one on Wednesday night: N°18 Jonás Gutiérrez was back on the pitch after 18 months recovering from cancer remission.
Manager John Carver's call for the Argentinian at the 19th minute sparked a moving one-minute-tribute from the entire crowd at St. James' Park as they were celebrating Gutiérrez first Toon appearance since October 2013. "Tonight's support from the fans was very emotional for me. After all I've been through, all I wanted was to play, I'm really happy," the 31-year-old Argentinian said to Latinolife after the game.
For Gutiérrez it meant much more than just playing for Newcastle again after a year and a half; it was a concrete proof that he was alive again.
It's not the first time that football has brought the Argentinian back to life. When Jonás was two years old the left side of his body suffered a paralysis as a result of convulsions. The doctor recommended little Jonás take up physical activity to reverse the paralysis. His mother (an avid football fan) decided to send Gutiérrez to a local Academy for 3-year-old boys. So his first encounter with a ball was in fact a form to cure from a life-threatening condition.
"He has always been a fighter," his father Ricardo told Latinolife. Along with his mother Mónica, he has been a vital source of support since Jonas' professional debut in 2001 in Argentina.
Back in those days, he was training hard to get promoted from Vélez Sársfield's U20 squad but he hadn't been spotted by the manager, so it was then that his parents encouraged him to play and study for an American University.
Due to his outstanding level Jonás received offers from several institutions in the US, but the 17-year-old had only one goal: "I will keep training to make my professional debut at Vélez."
Within a year he played his first game for the First Team, coming off the bench to score only five minutes after running onto the pitch. Jonás reminisces: "I was so nervous I didn't know how to celebrate the goal."
A decade later he became known in the Premier League as "Spiderman", as he used to wear the superhero mask after he scored. During his eight consecutive seasons at Newcastle United, Gutiérrez has never been the best player but he proved to be one to always give his best and has become highly respected by the fans.
Wednesday's welcome back was all the more poignant because his journey from recovery to the pitch has not been smooth. Following the talented winger's return to training with Newcastle after undergoing surgery in Buenos Aires in November 2013, former manager Alan Pardew axed him and Gutiérrez was told to find another club.
"He told me this 20 days after my operation, when all I wanted was to train and get fit," Gutiérrez said. "I knew it would take time for me to get my place back and never complained when I didn't play. I don't know if I will forgive him."
In January 2014 Jonás was loaned out to Norwich FC but the emotional impact of the departure affected him physically as he experienced liver pain and lymph node swelling, so he started chemotherapy sessions in October.
It didn't take him long to bounce back; in December he was playing again for the U21 Newcastle squad. "It was a small step to get back to the First Team," his father Ricardo said. His mother Mónica adds, "Jonás deserves it more than anyone. He has the black and white jersey attached to his skin."
Gutiérrez' comeback at St. James' Park was proof of his fierce determination – and also that mothers are hardly wrong. "I couldn't hold my tears after he came off the bench. I knew that the ball was there waiting for him," said an emotional Mónica after his son Jonás finally played for the Magpies after 18 months.
Gutiérrez has 10 more games left this season before his contract with Newcastle ends. After defeating cancer, he is anxious for new victories. "When the doctor told me I was healthy, I just want to get back on the pitch. My goal was recovery – nothing else. But now I want more. I'm improving every day."
Cuba's natural setting, with its own historical and cultural...