Top Ten Brazilian Things To Do This Summer
Despite it taking place over 6,000 miles away, London is gearing up for the 2016 Olympics as if we were hosting it here. What we spent on partying in the great summer of 2012 we are now preparing to shell out on summer parties and caipirinhas!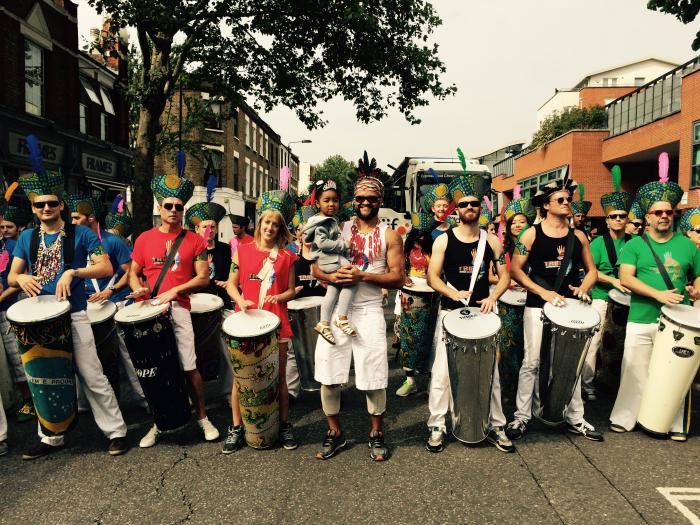 1. Watch The Opening & Closing Ceremonies
CocoBananas is doing not just one but two supper clubs with our Food Editor Natalie Salmon, The Latina Cook. The nights will coincide with the Brazilian Olympic Opening & Closing Parties, where you can enjoy healthy Brazilian Food followed by an evening of dancing all with projector screens playing the action from Rio's Olympic Stadium.
CocoBananas - Friday 5th August - Opening Ceremony & Sunday 21st August - Closing Ceremony
2. Listen to the sound of Brazil
Be hypnotised by the sound of Marcos Santana's TRIBO drumming sensation as the batucada parades down the streets of N8 in North London. TRIBO has its origins in Morro de São Paulo on the island of Tinharé, Bahia, Brazil, setting up a place for the children of the island to develop their personalities and talents.
18th June, Crouch End Broadway www.crouchendfestival.org/la-clave
3. Try a Brazilian Breakfast
Go to Good Life Eatery to try an ACAI BOWL made from granola, acai puree, banana, pineapple, green apple, desiccated coconut at £7.20 it's money well spent.
The Good Life Eatery - Sloane Avenue
4. Cheer On The Olympics
Join a FanZone to cheer on the Olympic games, Rio may be miles away but supporters of Team GB are set to be taken closer to the action at this summer's Olympic Games as eight cities are already confirmed as Official Team GB FanZone hosts. The Fan Zones will show live coverage of the Olympic Games at selected times between 1pm and 10pm between the 5th-22nd of offering the chance to share historic sporting moments among fellow fans.
London Venues - BeachEast, Queen Elizabeth Olympic Park, London, London Bridge City, London
5. Lie on Copacabana at South Bank
Can't make it to Rio? Then let CopaCabana bring Rio to you! All Summer long, Cabana is recreating Rio's most famous beach on London's iconic South Bank, in celebration of the Rio Olympics. Along with 85 tonnes of sand they will be serving Caipirinhas and street food!
Cabana's CopaCabana Beach - Queen Elizabeth Walk, Southbank Centre. 11am til late, daily.
6. Catch a Film, watch the Samba girls
The screening of 'Passinho Dance Off' is a one-ff not to miss. Passinho was a dance craze and viral internet sensation that swept across Rio de Janeiro. It made superstars of its performers, championing the creativity, ingenuity and passion born in the city's favelas. This documentary, directed by Emílio Domingos, follows the key performers in the run up to a city-wide dance battle to crown the king of passinho. But it takes an unexpected turn when one of them goes missing. As part of La Clave Fest you can also see the girls of DancemyWay perform and listen to expert talks on Brazil
18th June 7.30pm Riley's on Crouch End Broadway, London N8 9JJ www.crouchendfestival.org/la-clave
7. Get A Brazilian Blowdry
Looking for the perfect summer look? Originally developed in Brazil, this innovative treatment process transforms the hair by using natural sources of Keratin which penetrates the hair repairing internal damage and coats the hair preventing further damage. The results are smooth, silky and straight hair. The Brazilian Blow Dry straightens the hair without damaging or changing its texture.
Available at Brasil Hair Islington 70 Essex Road, Islington, London, N1 8LT
8. Join A Boat Party
Come join a Thames Boat Party as they set sail for sunnier shores with DJs spinning Latino and tropical vibes for the return of the Tropicalista Night. Taking place aboard the legendary Dutch Master, the river's largest and most luxurious party vessel with the incredible London skyline as a backdrop and add to that the funkiest Brazilian soundtrack.
Sat 11th Jun 2016 Venue: The Dutch Master / Tower Pier
9. Experience Brazilian Art in Camden
To coincide with the 2016 Rio Olympics and the São Paulo Art Biennale, Camden will highlight all things Brazil in its Annual Arts Programme. Camden Sentido will link together the spirit of Brazil with the spirit of Camden through performances, gigs, talks, exhibitions and workshops by partners including Central Saint Martin's, Wembley to Soweto Foundation, Mais Um Disco, Walls on Walls, Argent and Camden Tour Guides.
Camden Sentido - 9 & 10 June 2016, Camden Market.
10. Try a Capoeira Master Class
Come to the London school of Capoeira you can have an all day session with 6 capoeira experts who will take you through all the steps of this Brazilian Martial arts which mixes combat training with dance. Their 2 day Capoeira festival runs from the 23rd - 34th of June and will make you a Caipira expert in no time.
London School of Capoeira, Unit 1-2 Leeds Place, Tollington Park, London N4 3RF. 23rd - 24th June.
And one last summer throw....
Enjoy the Carnival
The closest thing you will get to a brazilian carnival Atmosphere is certainly Nottinghill Carnival! It's time to get dirty, adventurous or just to dress in a comical or carnivalesque outfit and to dance along to drums & steel bands.The Carnival Bands will take to the roads from around 9am on Sunday 28th August 2016 and the same time on Monday 29th of August. 2016 The Carnival parade should complete its procession by 7pm.
NottingHill