Voice in Residence
In the often vacuous world of Reggaeton, Residente has stood out as one of its most outspoken artists. Even at the Grammy Awards, where he has, perhaps surprisingly, won more than any other Latin artist, the former Calle 13 member has expressed his indignation at the political and social injustices that afflict his native Puerto Rico and Latin America. Rather than reject him, his increasing popularity shows that his sensibilities resonate with young people. Jose Luis Seijas talks to Latin America's most intriguing Urban Latin artist and, some might say, the voice of its youth.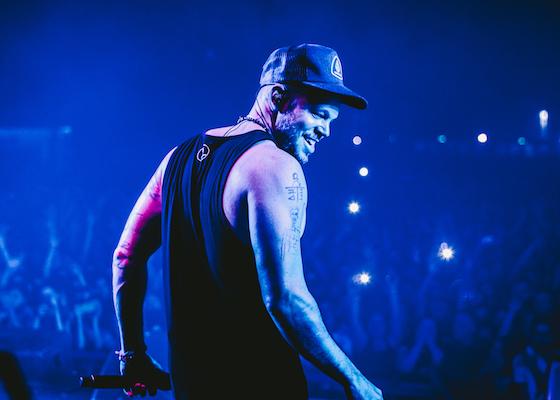 Born René Juan Pérez Joglar in San Juan, Puerto Rico, Residente studied fine art before starting Calle 13 with his half-brother Eduardo (aka Visitante). On tour, the group sometimes charged admission fees in food to be distributed to the local poor and Residente often displayed political slogans on his T-shirts or his painted chest.
Their 2011 song Latinoamérica, featuring singers from Peru, Brazil and Colombia, became a hemispheric anthem. After the tour that followed their 2014 album Multiviral - both an embrace and critique of internet culture - Residente and Visitante went their separate ways. Since being the architect of his own music, Residente's career soared.
A few years ago, the Puerto Rican took a DNA test that traced his genes back to 10 different parts of the world – from Ghana and Armenia to China and decided that these results would serve as the conceptual framework for his 2017 album Residente, which won the Latin Grammy for best Urban album and Billboard's Best Spanish Language Album. He has received the Nobel Peace Summit Award for his commitment to promoting social awareness and peace, and has served as spokesperson for UNICEF and Amnesty International campaigns.
Jose Luis Seijas: You're already becoming an icon of Latin music, but your lyrical style has changed a lot from your first single Se Vale To-To.

Residente: Well, I've matured. There are people who don't mature, I was lucky enough to mature and able to absorb all the travelling, the experiences I've had and the perspectives of people I've met. I've learnt that you can only express yourself in the best possible way when you let go and feel free, and you can achieve that only when you allow yourself to be affected by those around you. Those experiences – among other things - changed me.

JLS: By coincidence I was in Puerto Rico when your first single came out in 2005, it was the time when Hector 'El Father' had just released Sangre Nueva and the urban sound that was ruling the airwaves was aggressive, harsh, ghetto... and suddenly I hear you! And you were so different, full of comedy. I think it was the comedy that really made you stand out. Now your lyrics are no longer so funny, you're irreverent, but a lot more direct. Is this down to maturity or simply because you no longer fancy writing like that?

R: The humour hasn't gone yet, I hope! Sometimes I make jokes that only I understand, but my humour is still here. It's true that, if I don't feel like writing funny stuff, it's not going to happen. It depends on the moment I'm living. I've been through some dark patches, especially during the process of Multiviral, which was about questioning myself, and my life. And I have songs like Desencuentro that have to do with that, or Somos Anormales about the mixed heritage that everyone has, whether they like it or not. At the same time, I have a new band, and to me Residente is the best album I've done. Maybe now I can allow my funny side to come out again! I just released Sexo, which is more joyful…well, despite being based on the sexual theories of Freud! (laughs). But the song is really accessible, to the point that my hardcore fans have said it is too simple! You can't please everyone! (laughs)




JLS: You seem to have been an accidental architect of the changes that have affected the Latin music industry. Now 13 years after your first release, how do you see the present and the future of our music?

R: Like everything in life, there is the positive and the negative. On the one hand, I don't like the fact that the music being exported from Latin America tends to copy US pop. But on the other hand, we are opening doors to the global market that were once closed. So we're making music that is not necessarily our best but at the same time we are creating new spaces and connecting to new audiences and that means new opportunities for artists like myself. It also gives the world a new language that is not English. People are getting familiar with hearing Spanish songs all over. That global pop music circuit has traditionally been monopolised by English-speaking artists and now people are seeing Latin American artists and that is fantastic.
JLS: Since your first releases there has been controversy about whether or not you were a Reggaeton artist. I think that has been settled with your eclectic albums that resist being pigeonholed. Still, of the new generation of urban Puerto Rican artists, who would you recommend we listen to?
R: Brother, I like a guy called PJ Sin Suela. He is the next big lyricist from Puerto Rico, a solid guy. I like what he writes, interesting stuff and he is a very clever guy. Now that he's traveling a lot, he will see new things and that will affect him in a good way, and it will take his music to new places. Those are the ones I'm interested in, the ones that take music to new places.
JLS: Your song La Perla with Ruben Blades is my favourite of your songs. Are you collaborating with any new salseros?

R: Not for now, but I can recommend you Pirulo from Puerto Rico, a timbal player as well. I like him a lot, he writes very clever stuff.
JLS: Part of your evolution has been the visual work on your videos. Tell us more about it, since you are a trained visual artist.

R: I directed my last four videos, Somos Anormales and Desencuentro, in which we featured Venezuelan actor Edgar Ramirez, and Guerra and Sexo which I directed, and I created the script for Multiviral.

JLS: So, in the future you see yourself working more with film?

R: Absolutely, that's already here!

JLS: Getting into more serious matters, how do you see the situation in Puerto Rico at the moment…

R: The situation is very complicated, and has been for many years. The island is a colony and therefore has no autonomy. The US government has a Financial Oversight and Management Board for Puerto Rico that controls all financial decisions: who earns what, from minimum wages to pensions. At the same time, it feels no responsibility towards Puerto Ricans, so it creates laws without thinking about their impact. They don't care about the people, they care only about getting their debt paid - a debt for which they allow no independent auditing. If Sony, my record label, tells me I owe money, the first thing I do is to ask for the books, to see for myself. It may be I owe them more than they say! But the federal government knows that if that audit happens, it will bring a lot of people tumbling down

JLS: Well, maybe in an audit it won't be you who owe them, but the other way round...

R: Imagine, if we take into consideration all the damage they have inflicted on us over the years; the Vieques military bases contaminating spaces that cannot be used for anything or the lives lost due to live-fire bombing practice. If we go the route of compensation I think they will owe us a lot. But our government has zero creativity and have been bought off with comfortable lives.
JLS: So politically where do you stand? Some dub you the new hero of the Latin American Left. I see you more as a Puerto Rican Independentista...

R: I don't belong to the Right or the Left. As a Puerto Rican I am an Independentista. Being Pro-independence means people link you with the Left but the Left has changed a lot. The Right is always clear about what its goals are, but politicians often pretend to be Left and then end up not being. I prefer to be an advocate for specific causes. Everything related to the independence of Puerto Rico, I am there to help. The same goes for human rights, I get involved. I also support anything to do with education and student rights. I try to stay away from people who look to use my words for their own political gain. I think today the youth are more clued up; they can criticise the Left and the Right, but they are not in the centre either, they are in a kind of political limbo, which someone should name, because that space is in itself a way of thinking, the space of not being married to an ideology, but being able to see what works for people, what is in society's interest and what doesn't work.
JLS: You have achieved a lot in your career. Do you think you are due for a break?
R: I am hungrier now than when I first started! And that can be a problem and sometimes I want to take a break but I really like what I do and maybe I will start being more involved in film but creatively I won't stop because it is my passion. I love writing. I'm releasing a lot of singles and maybe I'll compile them for an album, even though they aren't under a 'concept' like my previous albums. In fact, maybe that is the concept, unrelated singles that I have made here and there...
JLS: This is not your first time in London, but it's your first time with your solo project. What difference can we expect from this concert?
R: Brother, the difference is the music. The quality of everything; the musicians are geniuses. First the cultural diversity there is in the band, musicians from Morocco, Germany, Argentina, Puerto Rico, USA...a real melting pot and each one of them is truly amazing. They are all independent musicians and I managed to bring them all together, and it makes me feel very confident having them. Their level is so high that I have to work harder to reach it, and when I reach new levels everything gets better. I'd say ten times better than my previous shows!
Residente will perform at KOKO in Camden this Sunday 8th July. For tickets go to https://www.comono.co.uk/live/residente/ 
A book which tells the story of the Amazon and its ports-towns near...