'Zama' Dir. Lucrecia Martel (Argentina)
After a debut La Ciénaga (The Swamp 2001) that shook the world of cinema and the equally successful La Niña Santa (The Holy Girl 2004) and La Mujer sin Cabeza (The Headless Woman 2008), Lucrecia Martel, one of the protagonists of the 'New Argentine Cinema', has hit the screens with her fourth feature 'Zama' out in cinemas now.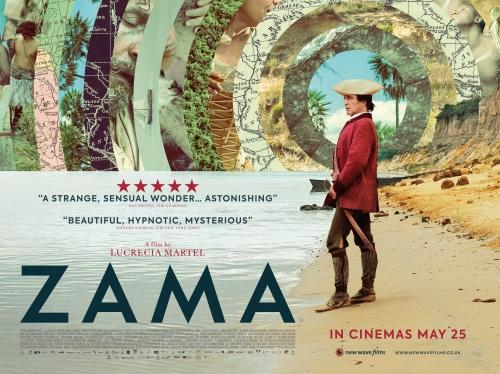 Zama was adapted for the screen by Martel from the novel of the same name by Antonio Di Benedetto (published in 1956). It is set in the 18th century, as the Spanish Colonial territories were gradually falling into a state of disintegration from a lack of proper control and funding. Don Diego de Zama, a magistrate and servant of the crown, has been stationed in a God-forsaken outpost, in Paraguay, where he endlessly tries every means at his disposal to be posted back to Lerma, where he has his wife and children. His half- hearted advances to Luciana Piñares de Luenga (the enigmatic Lola Dueñas) lead nowhere. Forgotten and surrounded by the decaying Colonial outpost, Don Diego falls into a nightmarish state of suspended existence where real and imagined threats surround him as he tries to appease the governor in the vain hope that he will achieve his objective: a long- awaited transfer.
Zama embodies many themes that have appeared in Martel's previous work to stunning effect. Time seems to have lost any direction, as Paul Valèry would have said : "the future is not what it used to be". Zama is a troubled mind, losing himself in an existential quagmire, both real and imagined. It is a film that is deeply textured and layered, flooding the viewer with sensations and emotions that are immersive and absorbing. Martel has an extraordinary ability to create suspense with a minimum narrative. Sounds have a life of their own, creating a patchwork that build up the storyline, so that even a soliloquy is built up of sound fragments.
Zama hangs onto a hope that is dwindling before his eyes. There are echoes of Nausea (Jean–Paul Sartre) and even The Outsider (Albert Camus) in the existential vacuum where Zama is trapped seemingly unable to relate to anyone.
There is a haunting beauty to the landscapes and there are fantastic and apparently arbitrary elements that abound, which may tempt commentators of Latin American' culture to make the usual comments about magical realism. Which Martel refutes. "I use fantastic elements but they have nothing to do with magical realism!"
For the first time, Martel's protagonist is a man, a finely-tuned performance by Daniel Giménez Cacho (of ' Almodovar's Bad Education'). Myths pursue him like a bad smell so that the local bandit, Vicuña Porto (Matheus Nachtergaele) becomes someone whom no one, not even the governor can eliminate; a ghost of himself that continues to haunt the water-logged landscape. Stories abound of his death every day, and his supposed mummified ears hang decoratively around the governor's neck. The best way to enjoy this film is to let it take you on its fantastic journey without expecting a typical linear narrative to be revealed in a logical manner.
Zama is out in cinemas now. See where here
Director: Lucrecia Martel
Screenplay adapted by Lucrecia Martel
Original Novel Antonio De Benedetto (Now available in English)
Art Direction Renata Pinheiro
Editing Karen Harley/ Miguel Schverdfinger
Director of Photography Rui Poças
Cast: Daniel Giménez Cacho, Lola Dueñas, Matheus Nachtergaele, Juan Minujín, Daniel Veronese.
A book which tells the story of the Amazon and its ports-towns near...