Martin's Causa Santa Rosa
Causa is a Peruvian classic style of dish meaning 'the cause'. It originates from the wives of Peruvian soldiers who made a wonderful salad style dish from cold potatoes and various fillings including seafood and avocado. This is featured in our Ceviche cookbook and was served at Ceviche Soho. Named after the patron saint of Lima, this vegetarian causa is one of our customer's favourites and the one I get the most emails about. Our addition of beetroot, carrot and avocado makes a fun, psychedelic combination. They can be assembled in all kinds of moulds and you can vary the fillings as you like. It's a perfect vegetarian starter or light meal.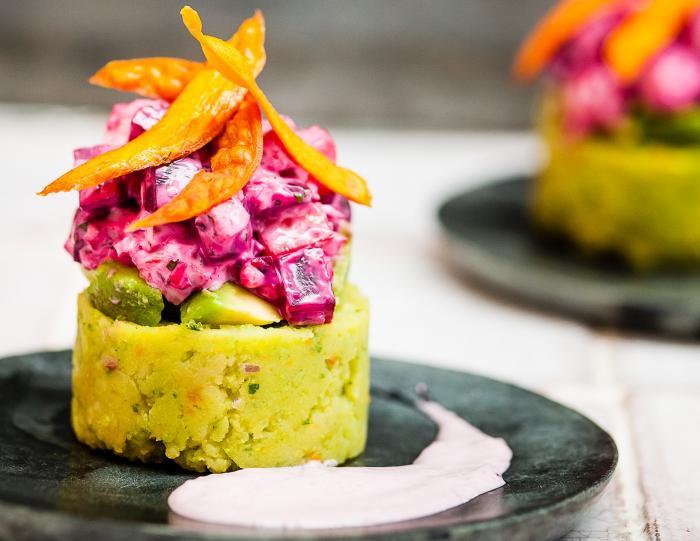 INGREDIENTS (SERVES 4)
A handful of coriander sprigs
500g floury potatoes, unpeeled
A pinch of salt
1 tbsp Amarillo Chilli Paste (see below)
50ml vegetable oil, plus extra
for deep-frying
50g sweet potato, sliced extremely fine
lengthways
4 tbsp Olive Sauce (see below), to serve
For the topping
75g cooked carrots, diced
75g cooked beetroot, diced
1 limo chilli, finely chopped
1 tbsp finely chopped coriander leaves
3 tbsp mayonnaise
½ a small red onion, finely diced
1.5cm piece of ginger, peeled
and finely chopped
Juice of ½ a lime
1 large ripe avocado, lightly mashed
Salt and freshly ground black pepper
METHOD
First of all, prepare the potato. Put the coriander in a food processor or blender with a little water and blitz until it is puréed. Steam the potatoes with some salt until soft and, when cool enough to handle, peel and mash them. Add the salt and Amarillo Chilli Paste and then gradually add all of the oil, beating continuously, until the mash is smooth and coming away from the side of the bowl. Add the coriander purée to the mash and mix thoroughly. Be careful not to over mix or the mash will become chewy.
To make the topping: gently mix the carrots, beetroot, chilli, coriander, mayonnaise, onion, ginger and lime juice together in a bowl and then season with salt and pepper.
If you have a deep-fat fryer, heat the oil to 170°C. If not, pour the oil to a depth of about 5cm in a large, deep saucepan, making sure that it is no more than half full. To test if the oil is hot enough, drop in a cube of bread; if it sizzles and turns golden, the oil is ready.
Deep-fry the thin slices of sweet potato until crisp and until they start to take on a little colour – each one should look like a long, thin crisp. Take care not to burn them. With a slotted spoon, remove the sweet potato crisps from the oil and drain on some kitchen paper.
To assemble each causa, put an 8cm round mould on a plate. Put some mashed potato into it and press down to make a base layer. Top with a layer of mashed avocado and then a layer of the carrot and beetroot mixture. Remove the mould and serve with a few sweet potato crisps arranged on top. Add a large spoonful of Olive Sauce on the side to serve.
BASIC CHILLI PASTE
This basic chilli paste works best with Peruvian chillies: amarillo, panca or rocoto. Many chillies can easily be substituted with others without the flavour of the overall dish being totally compromised.
Put 1 tablespoon of vegetable oil in a large, heavy-based saucepan. Heat over medium heat and then add 100g frozen or fresh deseeded chillies of your choice or 35g reconstituted deseeded and roughly chopped dried chillies, and ½ a finely chopped small onion. Sauté over low heat for about 10 minutes, stirring regularly. Add 2 crushed garlic cloves and sauté for 5 minutes until everything is very soft, being careful to make sure it doesn't take on any colour. Put the contents of the saucepan into a food processor or blender and blitz until smooth. Store in the fridge in a sterilised jar. Makes about 190g.
NOTES
If you are using dried chillies (such as panca chillies), dry roast them in a frying pan for 1–2 minutes and then cover with warm water to rehydrate. It may take several hours but the chillies should plump up almost to the point that they look fresh/frozen. Strain and deseed and you should end up with around 100g of chilli.
If you are using rocoto, substitute half the quantity with sweet red pepper. This is because rocotos are very hot and the flavour needs balancing out a little.
To sterilise glass bottles or jars, wash them in hot soapy water and place in a low oven (150°C/gas mark 2) until ready to use.
As a general rule you can store chilli pastes for up to a week in the fridge. They will keep quite well if you decant into sterilised jars and cover with a layer of vegetable oil. And as mentioned earlier you can freeze them. A useful for tip for freezing is to put the paste into ice cube trays in tablespoon and teaspoon measurements and then decant into plastic bags once frozen.
OLIVE SAUCE
This rich sauce keeps very well in the fridge and can be used as a dipping sauce.
Put 1 egg and 2 tablespoons lime juice in a food processor or blender and blitz together. Mix 200ml vegetable oil and 100ml extra virgin olive oil in a jug and gradually add it to the food processor with the motor running – once the mayonnaise has started to thicken and has emulsified, you can increase the speed. Add the 15 pitted Peruvian botija olives (or kalamata or any black olive) and blend until smooth. Add a dash of Worcestershire sauce and more seasoning if necessary. Store in the fridge for up to 1 week. Makes about 400ml.
NOTE Please don't be tempted to make the sauce purely with olive oil as it will taste far too strong.
Recipe from CEVICHE: PERUVIAN KITCHEN by Martin Morales published by Weidenfeld & Nicolson in hardback on 4 July 2013 at £25
Martin's new cookbook 'Andina' is available http://martinmorales.co.uk/book.php
Cuba's natural setting, with its own historical and cultural...